SpaceCat Has a New Location!
1415 W San Carlos St, San Jose, CA, 95126! Telephone 408-280-7257.
---
Batman Day, Saturday September 23rd!

---
Magic the Gathering Staurday Night Commander!
Starting October 7th SpaceCat will be hosting free Saturday Night Commander events every Saturday at 7:00 PM! Come join us to play the best Magic the Gathering format there is!
---
SpaceCat Back Issue Sale*
Bagged Back issues Under $6 are $0.50!
Back issues Under $10 are $1.00!
Back issues Under $20 are 75% Off!
Back issues Under $50 are 30% Off!
*Back issue sale does not include sale items, front tables items, or behind the counter.
Back issue sale only includes items on the tables in the back or the shelves along the back wall.
Card Boxes--Magic, PokeMon and more: 20 % off pack price
Toys--We've just lowered the prices on all our toys.
Magic display Mobiles: 1/2 off lowest marked price.
---
Upcoming Magic the Gathering events!
Magic the Gathering Ixalan Prerelease Preregistration
SpaceCat will once again be holding a Premier Event for Ixalan Prerelease, like we did for the Kaladesh prerelease! This will most likely be the midnight event, which will be held Friday (September 22nd) night/Saturday (September 23rd) morning after FNM. Preregistration will be available for as low as $15.99! See our Magic Events Section for details!
Magic the Gathering Hour of Devastation Prices
Hour of Devastation is now available. Here are our prices:
Booster Box: $99.99
Bundle: $39.99
Planeswalker Pack: $14.99
Hour of Devastation booster box purchases will include one copy of the Hour of Devastation Buy-A-Box promo, Wildfire Eternal, while supplies last.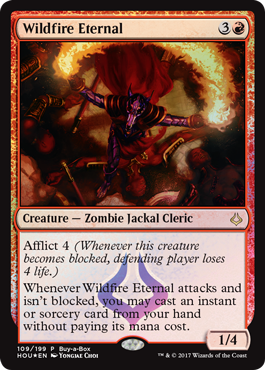 ---
SpaceCat is a family owned, local store striving to provide our community with the best and latest comics, vintage video games, and Magic: the Gathering. SpaceCat carries every new comic and the largest selection of Trade Paperbacks and Graphic Novels, as well as 50,000 back issues including rare issues!

SpaceCat has one of the most extensive collections available for sale in the New World of vintage video games, consoles and accessories!

Come play Magic: the Gathering with us in a safe, friendly, inviting environment every Wednesday and Friday Night.
---

SpaceCat is pleased to offer subscriptions and preorders for comics and specialty items as a free service!
---


DCI Sanctioned Wednesday Night Magic - 7:00 PM - Draft ($13.99 +tax)*

DCI Sanctioned Friday Night Magic - 7:00 PM - Draft ($13.99 +tax)*

Check out our gaming page for more info!
We strive for a fun, competitive Magic environment. Ask us for help and know the Magic Rules.

*$1 discount with DCI/Contact Information on file.





---
SpaceCat
1415 W San Carlos St
San Jose, CA 95126
Telephone 408.280.7257

Like us on Facebook

Take a look at our Amazon store!